DR. EDDIE L. HYATT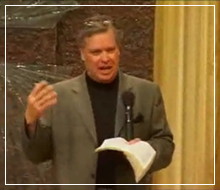 Dr. Eddie L. Hyatt is a seasoned minister of the Gospel, having served as a pastor, teacher, missionary, and professor of theology in the U.S. and Canada and having ministered in India, Indonesia, England, Ireland, Sweden, Poland, and Bulgaria. His ministry is characterized by a unique blend of the anointing of the Holy Spirit with academic excellence and over 40 years of ministerial experience.
Eddie has made a life-long commitment to the study of Scripture, church history, and Spiritual renewal. In addition to his on-going personal study and research, Eddie holds a Doctor of Ministry from Regent University where he majored in church history and spiritual renewal. He also holds the Master of Divinity and a Master of Arts in Pentecostal-Charismatic Studies from Oral Roberts University.
Eddie has lectured on revival, church history and various Biblical themes in churches, conferences and some of the major educational institutions in the world today. These include Oxford University in England, Oral Roberts University, Zion Bible College, Celebration Bible College, and Christ For the Nations Institute. He has authored several books, including the highly acclaimed 2000 Years of Charismatic Christianity, which is used as a textbook in colleges and seminaries around the world.
The Lord's mandate to Eddie for this season of his life is to "feed My sheep." He is obeying this commission by teaching and preaching wherever God opens the door, by continuing to write and publish, and by making use of modern media, particularly the Internet, for delivering the message God has given him. Eddie's goal is to see each believer grounded in the word of God and able to cooperate with the Holy Spirit in a mature and responsible manner. With hearts awakened by the Holy Spirit and minds renewed by the word of God, he believes that authentic revival can transform the church and impact the world in the 21st century. He and his wife, Susan, reside in Grapevine, Texas, from which they carry on a ministry of teaching, preaching, writing, and publishing.




Copyright (c) 2023 Eddie Hyatt. Last Modified: 03/23/2023